Over two days, more than 55 speakers delivered some of digital marketing's best keynote speeches to thousands of attendees at the Digital Summit Chicago. Attended by marketers, B2B service providers, tech experts, brand managers, ad agency managers and startup founders, it was a brilliant gathering of digital marketing's finest minds. Here are our 6 key takeaways from the event.
Content is more effective when it's personalized
For John Triplett of Vertical Measures, content creation's goal is to appeal to customers so they're given all the information they need in preparation for a purchase. The customer journey should, therefore, be filled with content relevant to each step.
At the beginning of the customer's journey, awareness is key so articles, videos, and social media are best. Once they're considering a purchase, ebooks, webinars and newsletters should be the focus then comparisons and case studies for when they're ready to make the decision. It doesn't stop there though, the next step is to make reviews and testimonials available to turn your new customers into advocates for your brand. Content developers can use online searches to gain insight into themes for content creation and have answers to their target market's questions.
John also presented tactical considerations that should be tied into the marketing strategy such as: What will you create? Where will it live and be shared? Who will produce the content? How will your team be responsible for organizing and approving content and creating a process to make it repeatable?
On a similar note, Beverly Jackson of MGM Resorts International encouraged marketers to create content that inspires by aligning content strategies hierarchically as a checklist to ensure all content has a purpose. It should meet all the criteria, or it does not get posted. The inverted triangle model for aligning content strategies include brand culture and purpose (Does your content change hearts and minds?), campaign (Does it align with your campaign goal?), timeliness (Is it culturally relevant? Is it posted at the right time?) and theme (Does the content look and feel aligned aesthetically?).
Matt Ingwalson of Heinrich also pointed out that content teams can fail to reach their goals because they don't think big enough, they create content without a KPI in mind, they build teams based on social expertise and fail to produce content efficiently. He reminds them that content doesn't exist in a silo and therefore marketers must consider all aspects of the marketing process. Matt then asked participants to write four rules and post them on in their own department for everyone: Content is portable and builds relationships. Don't start creating until you know your path. Assign accountability by purpose, not channel. Best practices are an aid to your judgment.
Mike Weir of LinkedIn Marketing Solutions also adds the importance of making content "ownable" so that content becomes distinctive and buyers can attribute content to the right brand. This is what Zachary Hanz of ActiveCampaign emphasized, content should be about real conversations with values and not just about product messaging that is unrelated to customers' needs.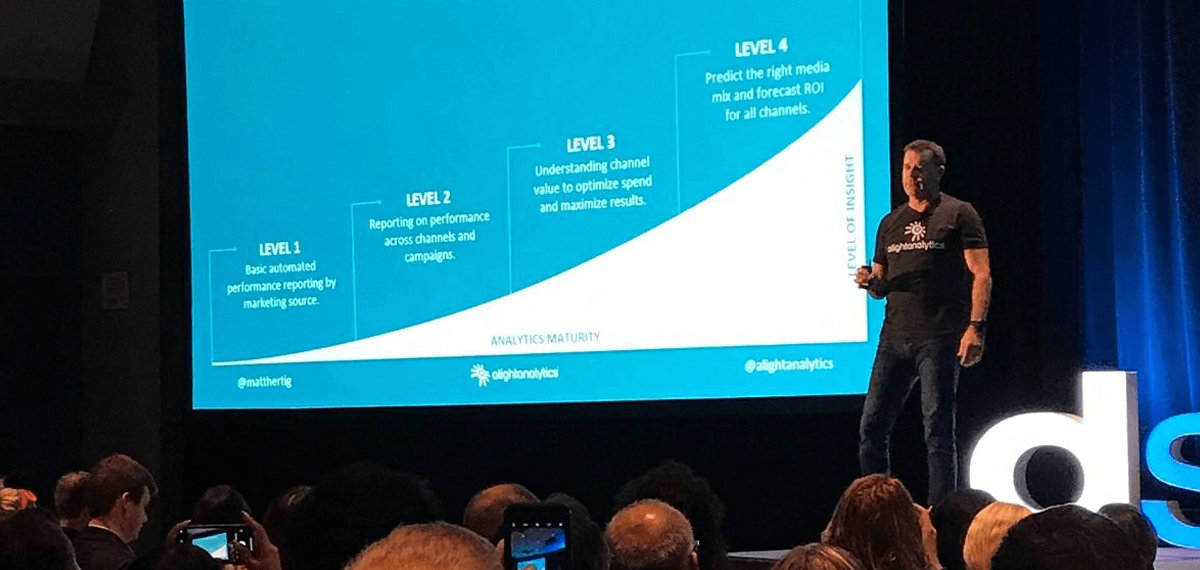 Use data to guide your marketing strategies
Matt Hertig of Alight Analytics revealed that only around one in three marketers use analytics before making marketing decisions. If properly implemented, analytics can provide an increasing level of insight as it goes through 4 stages (as seen above).
Mike Weir of LinkedIn Marketing Solutions further emphasized the need for analytics in marketing by explaining to the audience they should be aiming to own a bigger part of the "voice" in a market as this leads to a bigger market share in the long run. By investing in what he calls "long data" instead of "big data," companies can gain bigger returns through going big on distribution. For instance, lead generation takes only months to accomplish, but brand building takes years for a true uplift in sales.
Creating a balance is important though as Paxton Gray of 97th Floor reminds everyone. Don't rely too much on data, "Use data but don't let data run your life." The key is to use the right strategy to put data to work when developing audience-centered content. For this, understanding human decisions plays an important role. Build a strategy and know what your shooting for, then use the data to help you get there.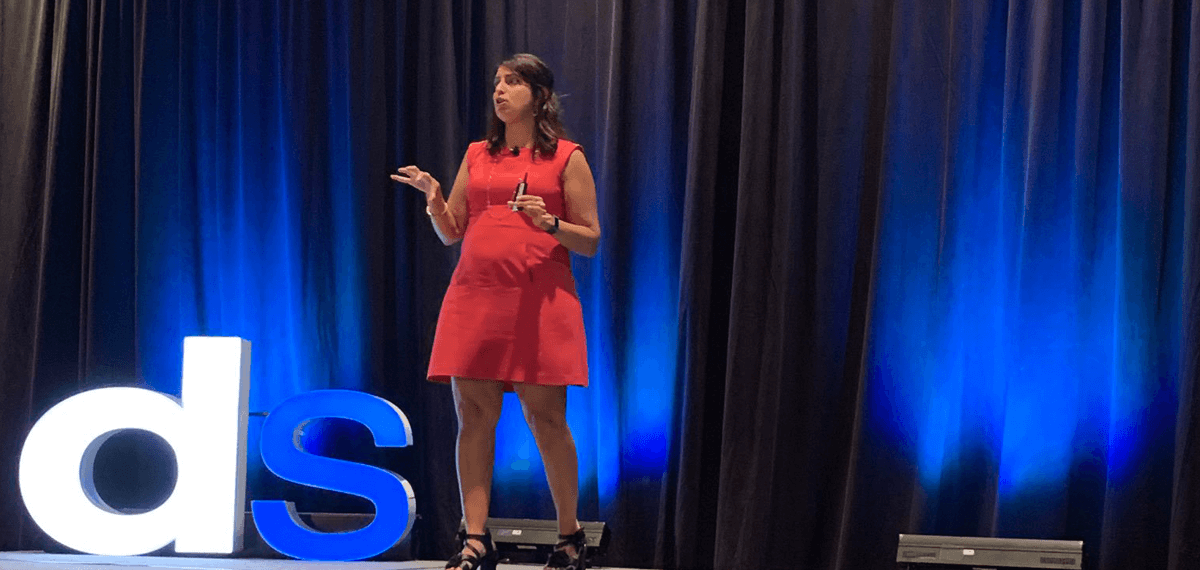 Humanize your brand
"Sell less and engage more" this is what Carlos Gil of Gil Media Co. reminded attendees on how to build an authentic brand. By listening to what your competitors' customers are saying, especially those awful reviews, brands can read, reply and work their way to converting these customers in favor of them. Carlos also recognized the fact that corporate brands don't work as well as they once did on the internet, customers want real conversations, not fake influencers. Eric Thomas of Saga Marketing encouraged his participants to be emotionally honest because consumers today invest more in emotions and passion.
In his PHD Framework (Physical, Human and Digital) for digital marketing, Alex McLeod of Fitch reminded everyone to be more empathetic, approachable and kind to develop a more human brand. Remain connected and interactive in your storytelling strategies. Sameena Kluck of Paladin put it best when she said that consumers trust a friendly face but never faceless companies.
Sell the experience, not just the product
Brian Fanzo of iSocialFanz revealed an interesting discovery about millennials: 3 out of 4 would choose to spend their money on an experience rather than purchase something desirable. Citing the notorious Fyre Festival that used awareness from advertising to lure people to spend money on an experience rather than purchase an actual product (even though it ended in an infamous fiasco). Brian recommends that experience marketing should be paired with influencers to elevate a brand experience that invokes emotion.
In line with this, Loren McDonald of Acoustic noted that the role of the Chief Marketing Officer has already evolved into Chief Experience Officer because there's an urgent need to own the client experience from beginning to end. A real 1:1 personalization should be the main goal of digital marketing. An example of this is the subscription model that combines customer experience and retention.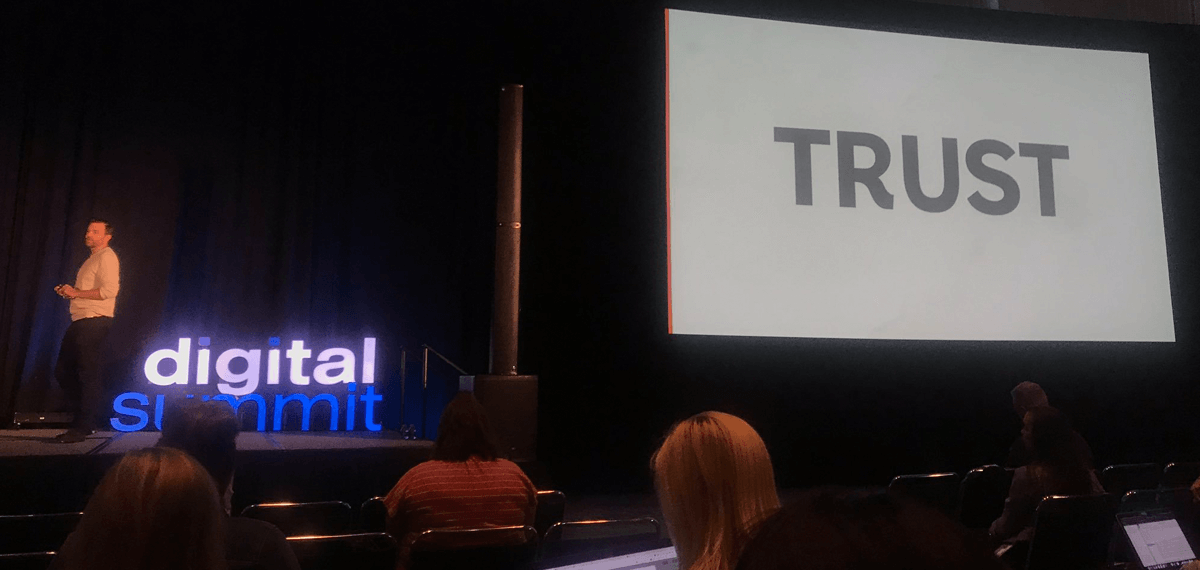 Listen to your audience
Will Caddy of Reddit challenged attendees to consider community marketing. Comparing to other marketing strategies such as social marketing where popularity is a key factor, and influencer marketing where reputation is a driving force, community marketing is all about the collective power of communities as the most prominent engines of culture and seeks strategies for brands to access or leverage their influence.
Will adds that in a community, collaboration is highly required and for that, marketers are required to listen to their communities, implementing what he calls a "social listening strategy." Marketers then need to identify a need that they can address, even from customer complaints (which are invaluable insights into the customer journey), deliver a unique contribution and finally demonstrate to the community that they are present. This helps build trust and makes the brand highly relevant.
Another interesting analogy on how important social listening is was made by Joe Federer of McGraw-Hill who discussed the hidden psychology of social networks. In his keynote, Joe used Sigmund Freud's concept of the mind (ego, superego and id) to depict how different social environments evoke various versions of ourselves. For instance, in the Managed Self, we're connected primarily to our offline friends and identified as our offline selves, we're positioning ourselves to our social circles. This happens mostly on Facebook and Instagram.
In the Ideal Self, while we're still connected to our offline friends, we have equal ability to reach people we don't know yet, so we present an idealized version of ourselves as evidenced on Twitter. Finally, in the True Self, when we're allowed to be anonymous and are organized by our interests and ideas, we have more freedom to explore different interests and express our true selves. The Reddit community is a good example of this.
As Obele Brown West of Weber Shandwick puts it, since social media is constantly changing, marketers should drive their brand communication to also evolve with it. Brands must know their reason, know their audience, and most importantly, know their x-factor according to Obele.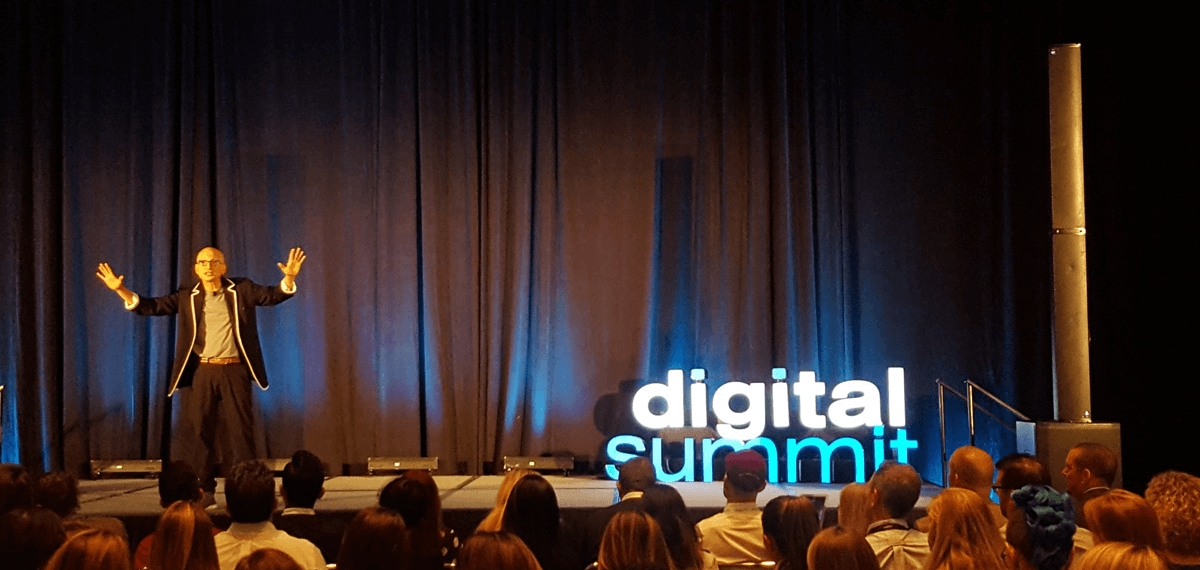 Nurture your customers on their journey
Today, relationships are created with information – not people, according to John Triplett of Vertical Measures. He cited important statistics that every digital marketer must take seriously: The customer is 57% of the way through their journey before they talk with any salesperson, and 67% of that journey is completed through digital channels.
John, therefore, recommends that brands follow a lead nurturing process that involves analyzing forms, aligning it with the customer journey, and using the forms to segment the audience. Marketers can position themselves by discovering a lack of information that initiates a search from users so the brand can provide "advocacy" to connect to potential customers.
Who else to better agree with the importance of customer journey than best-selling author Seth Godin who said in his keynote that marketers should think about making remarkable stuff only for a small group of people. He reminded a fully-packed hall that there's no advantage to being famous in marketing but instead, being famous to a niche is more important. By identifying a small group of people, marketers can reach and delight them more effectively. Their job as a marketer is to be an architect of tension and release at the same time.