Now you can share a video, qualify leads or offer a search bar in your widget with tawk.to's newest feature.
Widget Cards make it easy to share almost any kind of content with your visitors. It's like having a mini-website in the chat. And it takes only seconds to build.
Learn more here: Modify your widget content
How do Widget Cards work?
Pick a card for the type of content you would like to add to your widget. Add a link, upload a file or customize the text. Then simply drag and drop it into place.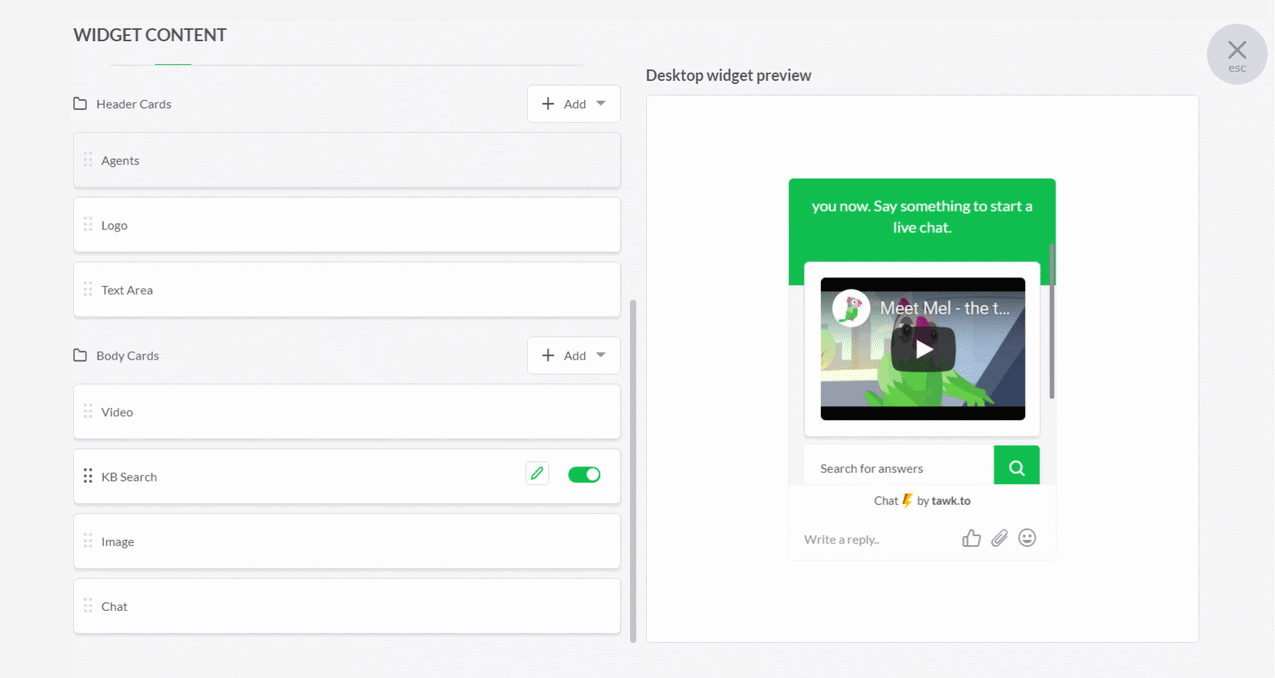 Learn more about how Widget Cards work here: Customizing the widget header and body cards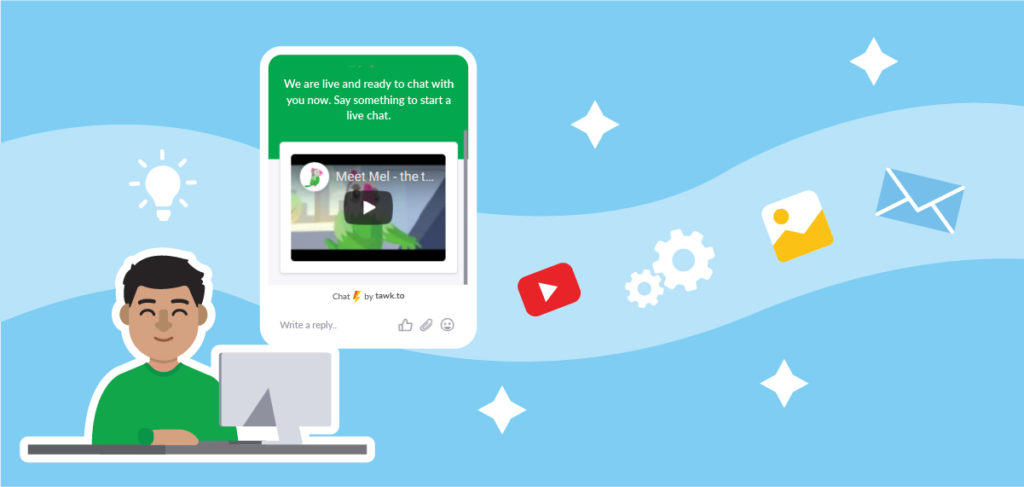 Here are the new features you can add to your widget:
Your Logo
Put your brand first. When you add a Logo card, the image you have uploaded for your property logo automatically appears in your widget.
Agent Images
Add up to five agent profiles in your widget header. Let your customers know who they'll be chatting with in real time.
Video
It's easy to share videos in your widget. Upload or link to videos from YouTube, Vimeo, Daily Motion or Loom. We've provided the display and playback settings right in your widget builder.
Headings and text links
Announce a sale with a heading or link readers to your FAQs. Heading cards and linkable text cards connect customers with the products and resources they're looking for.
Image
Upload an image and link to any content. Promote a new product. Send visitors to social channels.
Knowledge Base Search
The Knowledge Base Search card lets visitors find the answers from inside the widget. You can also add a featured Knowledge Base card or show up to five of your most popular Knowledge Base articles or categories in your widget.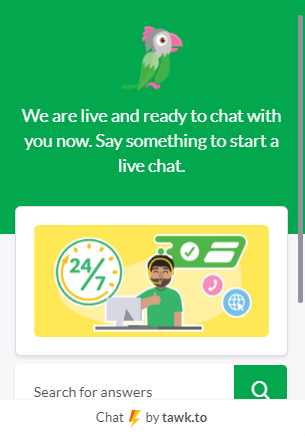 Chat
Chat with website visitors in real time. The Chat card lets you decide where conversations happen on your widget. Place the chat at the top or add it under a Knowledge Base Search so visitors can look for the answers before they start a chat.
Forms
Forms collect visitor details and qualify leads. Add a question. Customize the form fields. Or just collect a name and email address. You'll be able to access and export your data in your tawk.to account.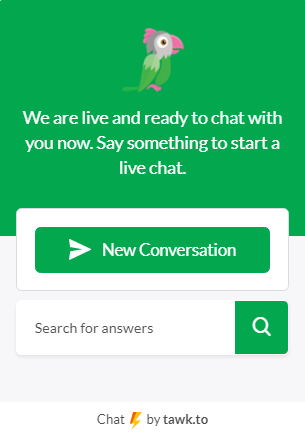 Previous Conversations
With the Previous Conversations card, your customers can review their most recent chats on your website. They can also choose to "See all conversations."
You get more ways to customize the widget on mobile
Control where your widget appears
The new widget design lets you control visibility on both desktop and mobile. Select the platforms on which your widget appears and the best screen placement for each device.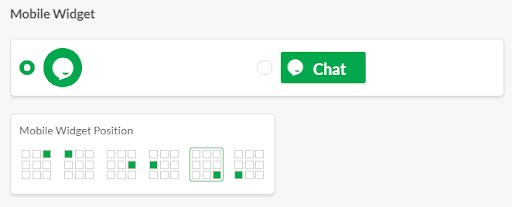 Choose previews options on mobile
Choose to see (or not see) what your visitor is typing in real time, giving your agents more time to respond. You can also enable or disable typing notifications that show agents and visitors a message is on the way.
Start a chat from a link
Prefer to open the chat from a button, image or hyperlink? Now you can hide the widget on load in both desktop and mobile view.
Disable email transcripts
tawk.to admins can now disable the feature allowing visitors to email themselves the transcript after a chat.
Engage more visitors on your website
The new widget is designed for accessibility in using Web Content Accessibility Guidelines (WCAG). With alternative text descriptions and keyboard-only options, visitors using screen readers and voice commands have more ways to understand and interact with your content.
Learn more in the Help Center: Is tawk.to WCAG compliant?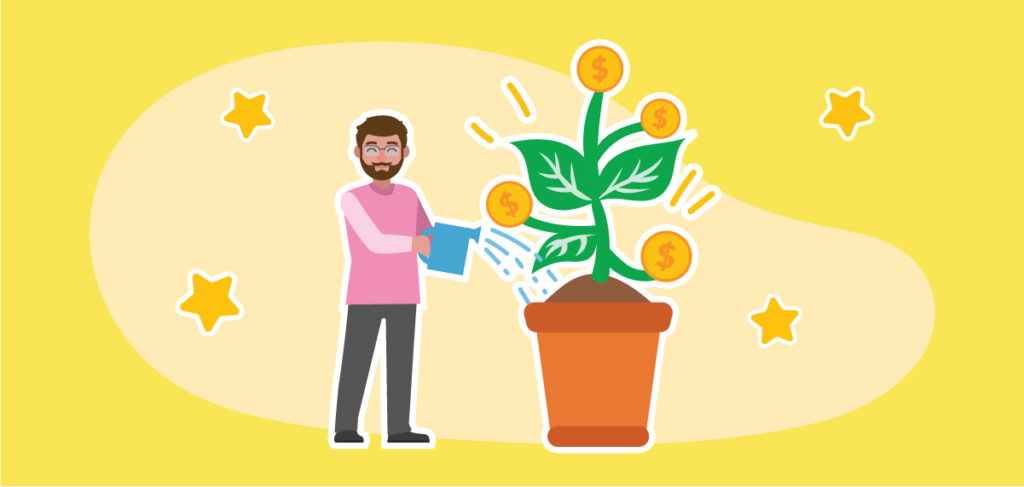 Grow with us
We're growing at tawk.to. And as we grow even more, you'll continue to enjoy new features free in your account. Premium Free features – not freemium.