The Dallas run of Digital Summit series was packed with online marketers, brand experts and content producers. Keynote speeches focused on content development, SEO, analytics and customer journey.
Here are our top takeaways from the event.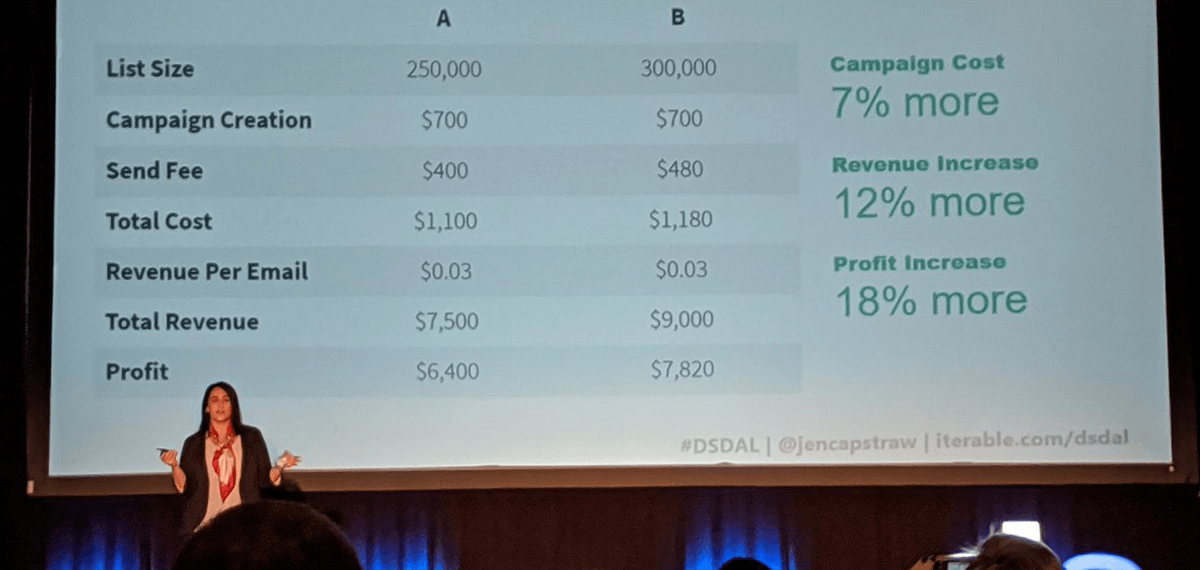 Email marketing has to be just right
NASA continues to search for planets that are orbiting at a certain distance from their stars that's neither too hot nor too cold. There should be just enough temperature for water to remain liquid. This habitable zone is also known as the Goldilocks zone.
In email marketing, brands must look for that same sweet spot that's just perfect for setting expectations. Having high hopes for results can only lead to frustration when the goal isn't achieved, while setting the bar really low may not optimize your full marketing potential.
In her workshop, Jen Capstraw of Iterable defined the Goldilocks zone in email marketing as the best opportunity to improve and expand your email program over the next 6 to 18 months. Brands should look for areas where they can earn a high return on investment with minimum level of effort when going through the B2C or B2B customer lifecycle.
This should involve strategies in different areas such as in-funnel (new subscriber welcome, free trials, tutorials), funnel fallout (post-purchase, cross-sell, surveys) and ongoing engagement (offers, promotions, loyalty statements).
Jen was also eager to share her technique on how to apply Feng shui principles to email marketing. These include:
1. Clean the message clutter. Trim down your copy, simplify your design, and add a clear CTA.
2. Introduce light and air in your design. Maintain enough white space and ensure responsive design at all times.
3. Improve your wealth area. CTAs should encourage clicks and will always appear even if the system is blocking images.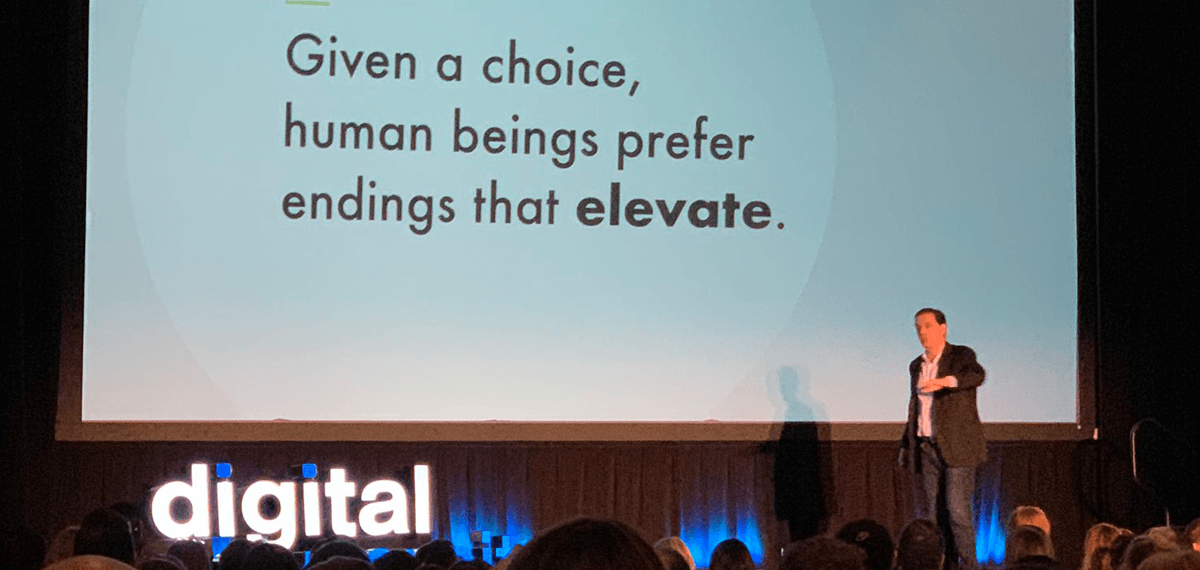 Timing is critical
Best-selling author Dan Pink has been exploring the science of timing for years. According to Dan, we think timing is an art but in reality, it's a science. For instance, the hidden pattern of the day profoundly affects our mood and performance. In his study of 500 million tweets from 2.4 million users in 84 countries, Dan noticed that positive moods rises in the morning, dip in the afternoon and rise again in the evening.
Citing another Harvard Business Review study that looked into 26,000 calls from 2,100 companies on a 6.5-year period, afternoon calls were more "negative, irritable and combative." This has led researchers to recommend that communications with investors should be made earlier in the day instead.
With these, Dan shared three key points:
1. Our cognitive abilities don't remain static over the course of the day.
2. These daily fluctuations are more extreme than we realize.
3. The best time to perform a task depends on the nature of the task. If it is an analytic task, perform it during the peak stage. However, if it is administrative, do it at the trough level. But if it requires your insights, it's best to do it at the recovery stage.
In addition, Dan has noticed that we often underestimate the power of breaks. We shouldn't think of it as deviations from work but rather as part of our work.
We should also make a "break list" that contains a schedule of breaks similar to how we schedule meetings.
Finally, endings help us energize and elevate at the same time. In a study he presented, researchers found out that 4 out of 5 people want to begin with a loss or negative outcome but end with a gain.
In another study, when respondents were tested for their bias towards end experiences by telling them that the chocolate they're eating will be the last, they reported higher enjoyment on the last compared to the preceding offers.
That being said, Dan recommends the following:
1. Shine a light on endings to energize yourself and others.
2. Always give the bad news first.
3. Highlight the last chocolate.
4. Use endings as meaning makers.
So how can these be applied to brands? Dan suggests the following strategies:
– User shorter redemption periods. Long timeframes with no immediate end in sight and are likely to cause further delays.
– Don't give up halfway through a project. Fluctuation at the midpoint is a precursor to a sudden burst of activity.
– When designing customer experiences, always settle for endings that elevate to influence the entire experience. Otherwise, no matter how good it was during the initial stages of their customer journey, it will only be overshadowed by a negative experience at the end.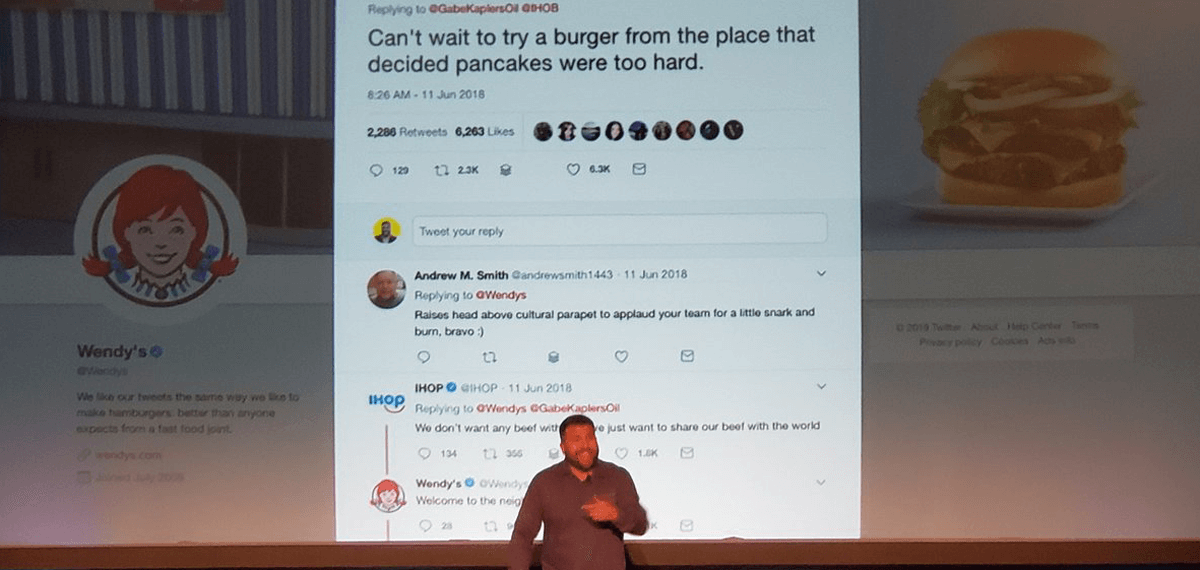 Value is more important than promotion
Carlos Gil of Gil Media Co. asked attendees to reflect on the reality that brands believe they're controlling their social media when in fact it's the people who do.
That's why it's important for enterprises to participate in the conversation in social media and make each conversation more human. A crowded marketplace has no room for being pushy with sales, people want good publicity that actually "sells."
According to Carlos, social media can be a waste of time if you don't have a strategy. However, it can be a major key to your business success if you invest the time. What's your endgame? Start with the "why" which is the single most important question.
In addition, brands must learn to audit themselves and reflect who's their target customer, what makes them tick, how old are they, what interests do they have, and what platforms do they use.
From this data, they should choose one or two channels where they can get the highest reach. Use them to complement each other for cross-promotion because the truth is, you can't be everywhere and stay effective. Brands should strive to be really good at a few channels and crush them.
Finally, Carlos reminded audiences not to always think about promotion but instead, think about value. How can you add value to your customer's lives? Is it through education, tips and tricks, resources around your service and product?
If you don't know, ask them. Find out what they want to hear about and deliver.