Consumers no longer turn first to user manuals and product guides. When we want information about a product, we Google it. And what we find is determined by search engines.
If you have a knowledge base, moving your articles to the top of the Search Engine Results Pages (SERPs) with an effective SEO strategy not only helps your customers find answers to questions about your products and service — it also introduces potential new customers to your brand.
What is Knowledge Base SEO and why does it matter?
Search engine optimization (SEO) is a set of practices that aim to move your articles to the top of the SERPS. Search engines use bots commonly called spiders to crawl through your site and follow the link structure. Based on what they find, they determine your article's placement.
On-page SEO is concerned with the contents and links readers see when they visit your website. It can include everything from keyword strategies and metadata to page load speed and mobile friendliness.
Off-page SEO builds trust and domain authority through internal and external links.
Google Search Central encourages creators to focus on people over search engines. Keep the user experience in mind and check to make sure your content has the following qualities:
Trustworthy
Authoritative
Unique
Helpful
Well-written
Insightful
Error-free in style, spelling, and facts
If you're not optimizing your knowledge base for SEO, not only are you losing the opportunity to better serve your customers, you're losing an often-overlooked opportunity to gain new customers.
So what's involved in knowledge base SEO and how can you go about making your articles rise to the top of the search results?
Follow these strategies to optimize your Knowledge Base for SEO: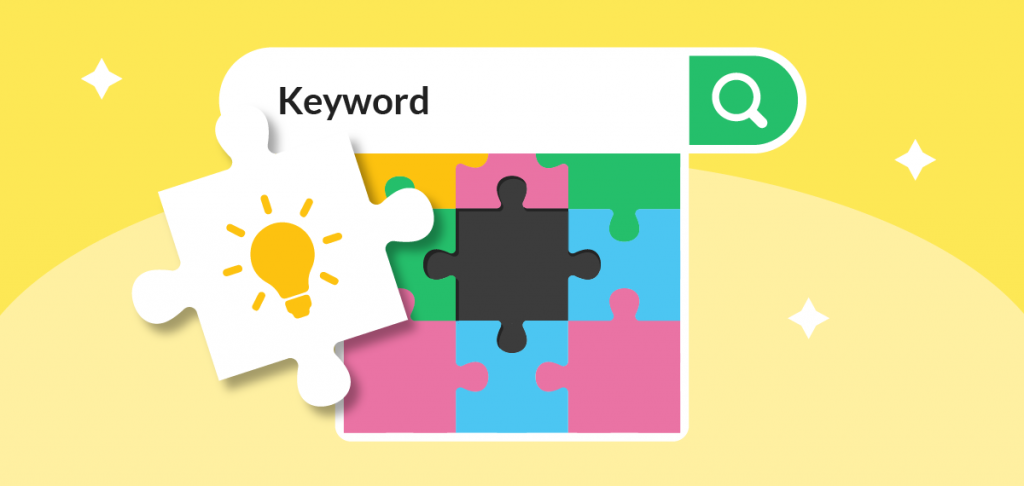 1 – Find and fill gaps
While your blog will bring customers to your website through search, your knowledge base is often the best place for technical guides, developer code, or step-by-step tutorials.
Putting detailed, product-related material in a Knowledge Base gives you an opportunity to rank for a complementary set of keywords that don't compete with your main site. In the process, you introduce new customers, including those of your competition, to your product.
SEO tools such as UberSuggest and AhRefs help you discover the keywords readers are using to find answers related to your business. Look for keywords with high search volume and low competition. Then use those keywords in your Knowledge Base articles.
Keep in mind that keyword strategies have evolved from adding a target number of keywords to showing that your content is relevant and helpful. We're writing for people first.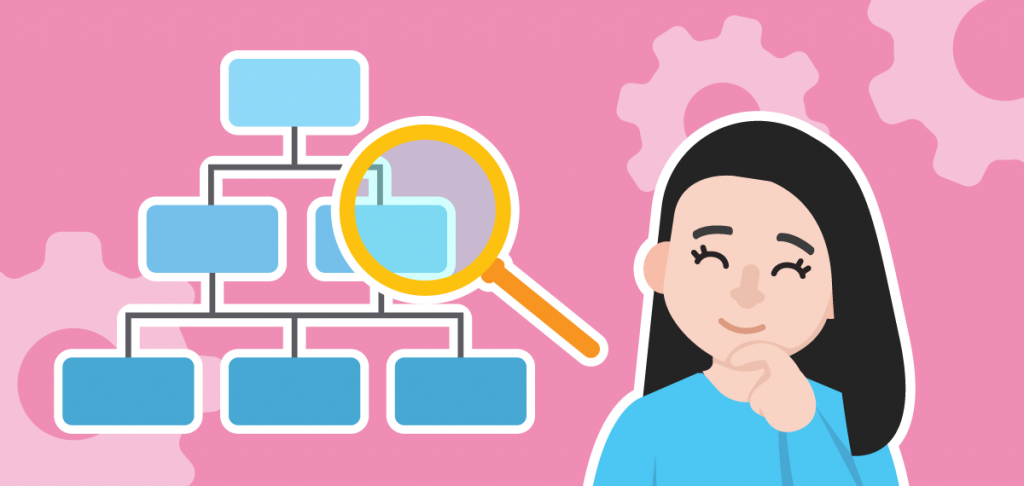 2 – Structure articles for readers and search
Search engines recognize and reward clear article structure. To guide web crawlers and keep online visitors on your page, make articles scannable
Use short paragraphs
Add a descriptive title and headings at multiple levels.
Use subheadings to help readers quickly understand your content and dive deeper into key areas of interest
Be sure to use your primary keywords in headings, first sentences, and first paragraph.
And include meta-descriptions for each article in your knowledge base to make the most of the article preview in the search listing.
3 – Outline steps with numbered headings
When we used numbered headings for steps, we found that Google was more likely to showcase the articles at the top of the search results pages as featured snippets.
In this example, Google outlined the article by presenting the numbered <H2> headings as an ordered list: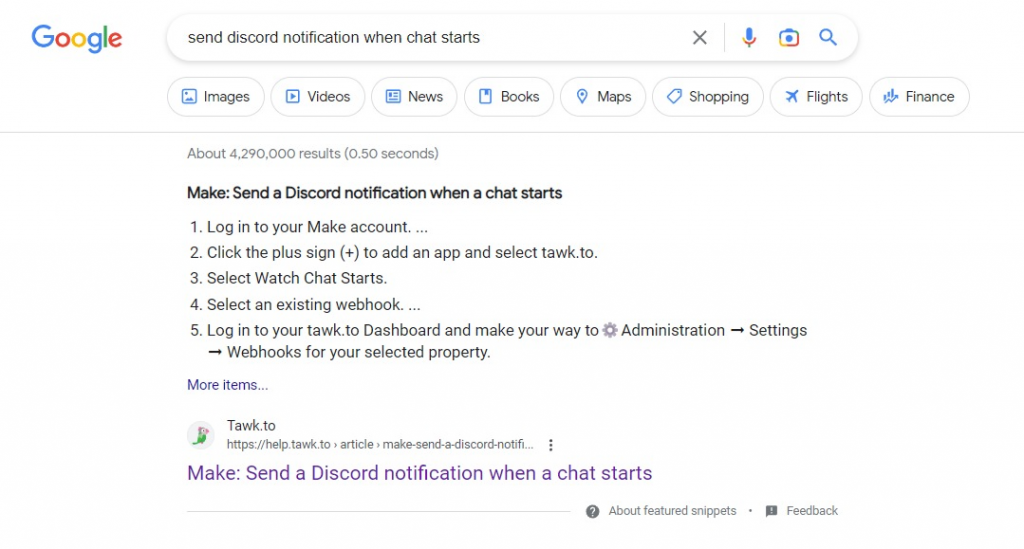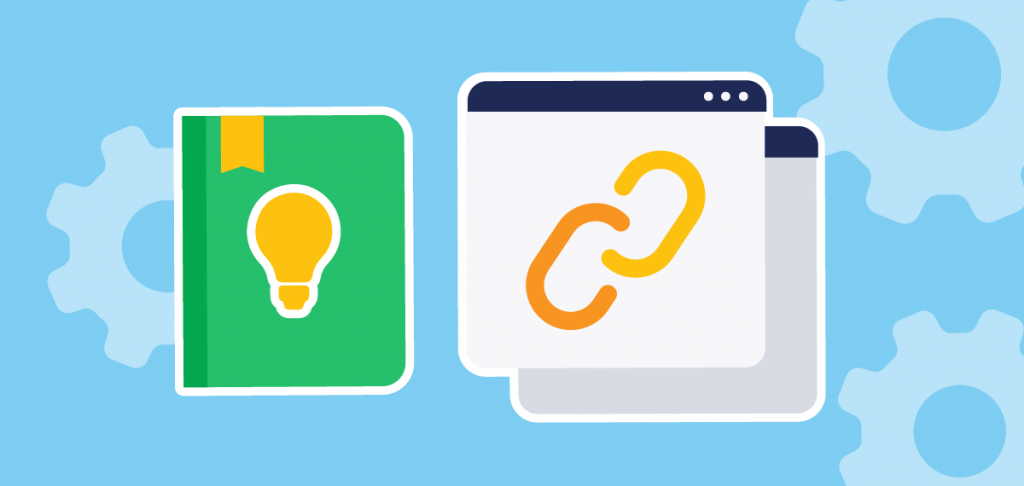 4 – Add quality internal and external links
Add internal links
Linking between articles in your knowledge base improves SEO and makes it easy for customers to find relevant articles in context.
At tawk.to, we also have a built-in relevant article feature that allows you to select up to 5 articles to be highlighted below each article. However, we also suggest additional reading and resources for complex and related topics within the body of each article.
Here's how to get the most out of your internal links:
Link only to relevant topics
Use specific and descriptive anchor text
Limit your links — adding 99 links to a single page sends a spam signal to Google
Add external links
Adding quality external links to your knowledge base is a simple way to increase your SEO ranking and domain authority.
Search engines recognize quality domains and sources. So don't be afraid to include high-domain authority expert sources for statistics, references for research, and helpful links to non-competing sites.
Linking to your website or blog brings customers into your business doors. And the benefits don't stop there. Linking knowledge base articles to your site also creates backlinks to raise the domain authority of your website and primary domain.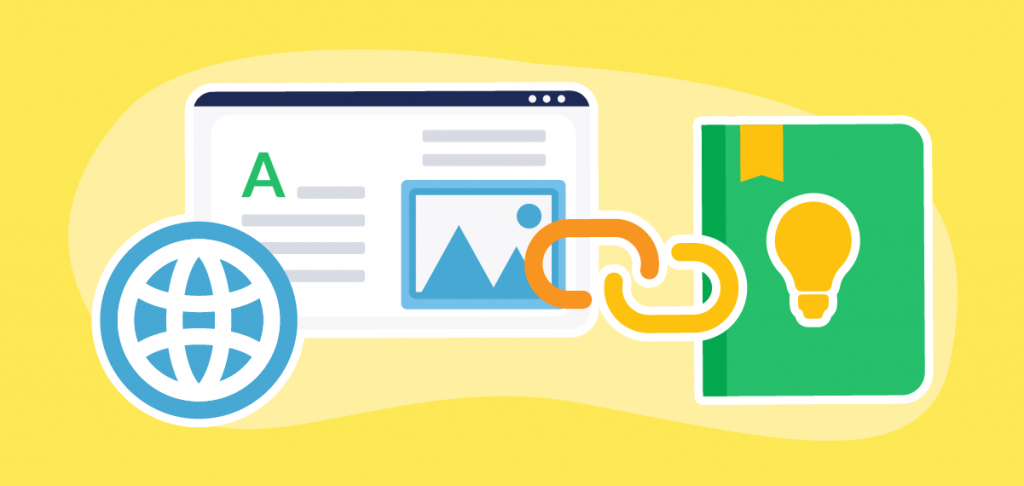 5 – Pursue quality backlinks
Speaking of backlinks, quality backlinks can also raise your ranking in the SERPS.
Link to your Knowledge Base from your blog, your website, your social profiles, and profiles on other websites (e.g. partner sites, review sites, or app marketplaces).
Link back to your Knowledge Base from a tutorial or explainer video on YouTube.
If you have business partners or affiliates who use and promote your product, the links they post to your Knowledge Base will help it rise higher in the rankings.
You can even find relevant articles and ask the content owners to include your Knowledge Base article as a resource where that makes sense.
Finally, why not include links to your knowledge base articles in done-for-you content for your affiliates?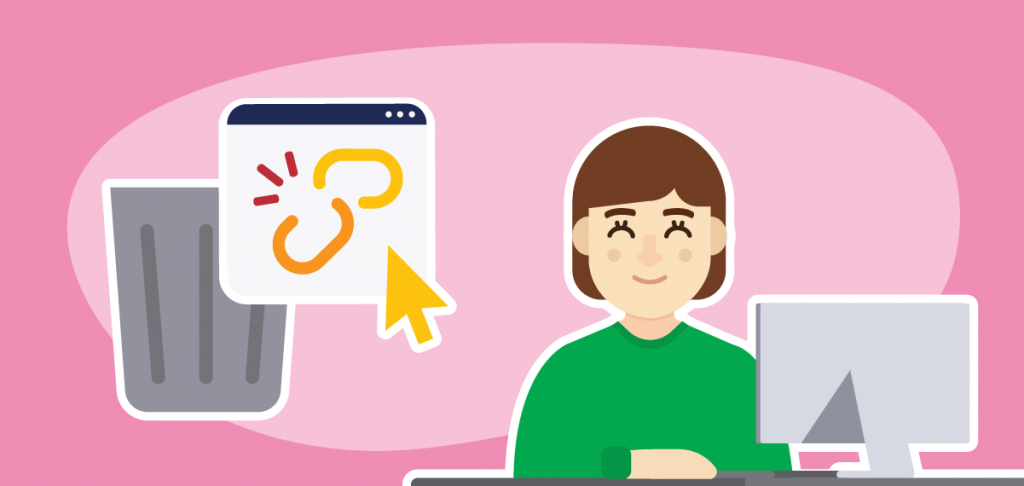 6 – Eliminate broken links
Use a free link-checking tool such as https://www.brokenlinkcheck.com to find any overlooked broken links on your Knowledge Base. Alternatively, you can also look for broken external links using software such as UberSuggest or AhRefs.
Making sure all links are up-to-date is one way to demonstrate that your content is high-quality and current.
7 – Lengthen ultra-short content
One of the ways Google decides how to judge quality content is to examine the length of the content. A 2000-word article must have more valuable information than a 30-word article, Google's methods imply. While, in fact, length does not determine the value of an article to the reader, paying attention to Google's algorithms is valuable to you as a content creator or Knowledge Base administrator.
Yet what if you address very specific questions in your Knowledge Base that take only one or two sentences to answer? On Google Search Central's SEO Mythbusting series, Martin Splitt, Developer Advocate at Google, cautions that very short articles are at risk of being treated as thin content and not useful.
Look for a way to combine short articles about a single product or feature into one longer article. Split suggests, "If you have questions in the category of troubleshooting or operating the thing that you're trying to sell, try to group this together to have more dense and helpful pages in one go."
8 – Use a subdomain
While subdomains and domains are treated as separate sites for ranking by search engines, using a subdomain for your knowledge base offers several advantages. John Mueller, Webmaster Trends Analyst at Google, suggests that using subdomains allows both readers and search engines to recognize separate sites as being part of one larger entity.
Here are other advantages to using a subdomain for your knowledge base:
You build your brand
You enhance trust on your site
You can include keywords in your URL
You improve the user experience on your site
If you have a knowledge base or plan to build one, consider white-labeling the URL now with a subdomain so you can start building domain authority as soon as possible.
Why wait?
Even a few simple changes to your knowledge base articles can affect your rankings and help you reach more customers.
Don't have a knowledge base yet? Set up a free account and get started here: https://tawk.to
Need to boost your page rankings but don't have time to do it all? Hire a digital marketing Virtual Assistant to help you with routine SEO tasks.