Now it's easy to track the performance of your remote team members. Our new End of Day Report gives you a summary of the work that matters most to your business.
When you subscribe to our monthly Virtual Assistant Service, you'll receive a customized daily summary of your VA's completed tasks. You choose the key performance metrics you want to track. We'll use them to help you set expectations, hold team members accountable, and correct minor issues before they turn into roadblocks.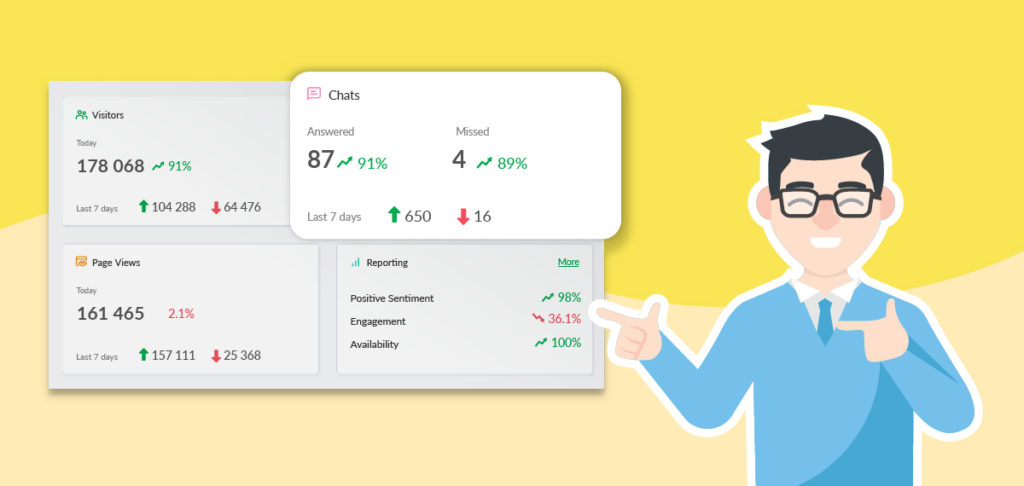 Measuring what matters
With team members distributed across 20+ countries, we've relied on shared data and radical transparency to offer world-class customer service for every tawk.to customers — whether or not they've made a purchase.
Each week, we post key metrics for our in-house team of Live Chat Agents. Messaging statistics show us how many chats were answered, how many were missed, and how long it took for the first agent to respond. We can even view stats for each agent to see who's delivering top customer service and who needs additional support or training.
Now, we've also created a way to track the work performance of our Virtual Assistants, whether they are scheduling appointments, updating a WordPress site, or providing reliable after-hours IT support.
The End of Day Report gives you a daily summary of key tasks your VA has completed — every day they work for your business.
How it works
When you sign up for the tawk.to Virtual Assistant service, you'll have the opportunity to fill out a Task Performance Indicators Form.
The information you share will help us better support your VAs' performance and productivity as they fulfill their core responsibilities in your business. Choosing the tasks you'll measure will set clear expectations for your VA. Then, our Human Resources performance management team will tailor your report specifically for your business.
Once we have your answers, we'll use them to create a new form where your VA can record their completed work at the end of each day.
What will my report include?
You'll receive a report in your email inbox for each day your assistant works. Your report will include a PDF with the information you requested when you filled out the initial Task Performance Indicators Form. If you did not complete the form, you'll receive a standardized report.
You can use your daily results to review and monitor your VA's productivity. You'll also receive a link to a summary of all your VA's daily reports in a spreadsheet, so it's easy to track their overall performance.
If, at any time, you need to change what you're measuring, simply reach out to tawk.to's Human Resources team. We'll give you the opportunity to update your Task Performance Indicators Form to reflect your new tasks and priorities.
How much does it cost?
The EOD report is included as part of our Virtual Assistant service. There are no additional fees for the report.
How to get started
If you're not yet working with a Virtual Assistant, simply enter your requirements and we'll get back to you with a screened selection of candidates selected with your business in mind.
If you're already working with a VA and have not yet filled out a Task Performance Indicators Form, reach out to our HR team and request one today. Once you've filled out the form, we'll set up your customized reports.