Lead generation. It's no secret that it's the holy grail of digital marketing for businesses. You want to create a steady stream of qualified leads, yet it can be challenging to do this on a regular basis.
Hopefully, you've already taken the first step and embraced the simplicity of tawk.to's Free Live Chat. Install the widget on your website, and you can engage and address the needs of your visitors. You have a higher likelihood of creating a sales conversation from their web session.
But how do you get more visitors to your website in the first place? How should you use social platforms? You know high-quality content is important, but how do you know which content to create?
Let's tackle these key questions with three steps your business can take to generate more leads this year.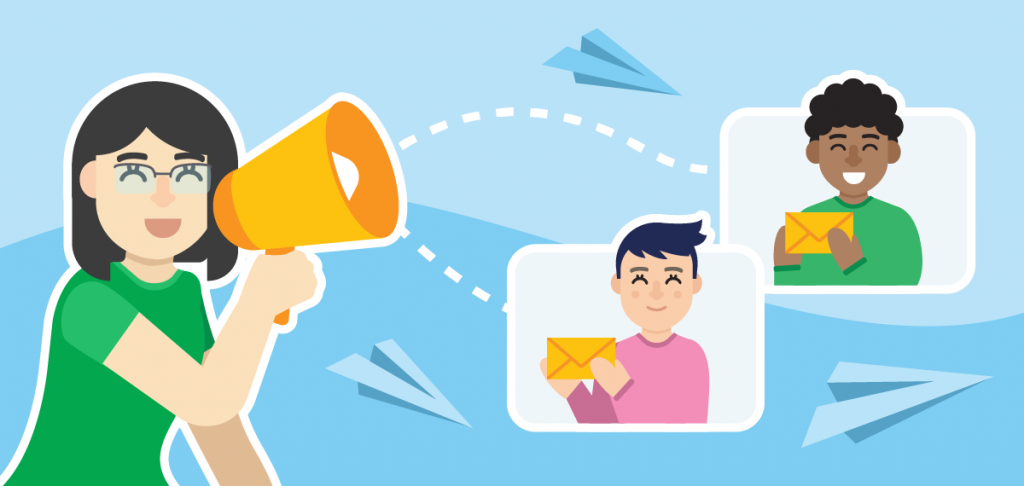 1 – Use messaging that resonates with the needs of your target audience
If you want to generate the right leads, send the right message.
Too many companies fill their websites with product features, awards, and company facts. Instead of focusing on "you," the company focuses on "we" or "I." They're speaking at the prospect — not to the prospect.
If your message is going to stand out from the 200 million active websites in the world, it needs to resonate with your ideal customers.
Your future customers have a problem they want to solve. How will you show them you have the solution?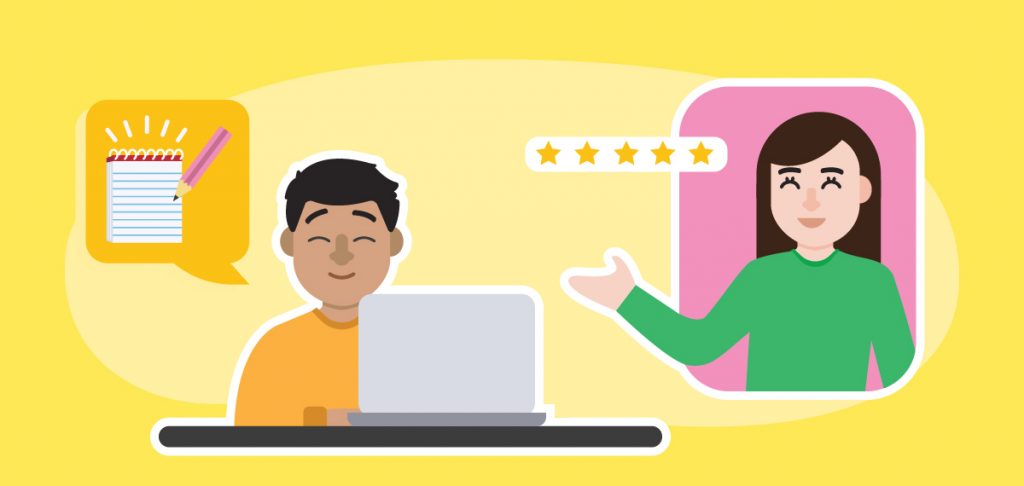 Interview your customers
Start with a conversation. What problem were your customers looking to solve when they found you? How did they find you? And what made you stand out from the competition?
Interviewing even 5-10 of your best customers will give you a better understanding of what your average customer actually cares about (and it's not necessarily what you think). You may even end up with feedback you can use to improve your business.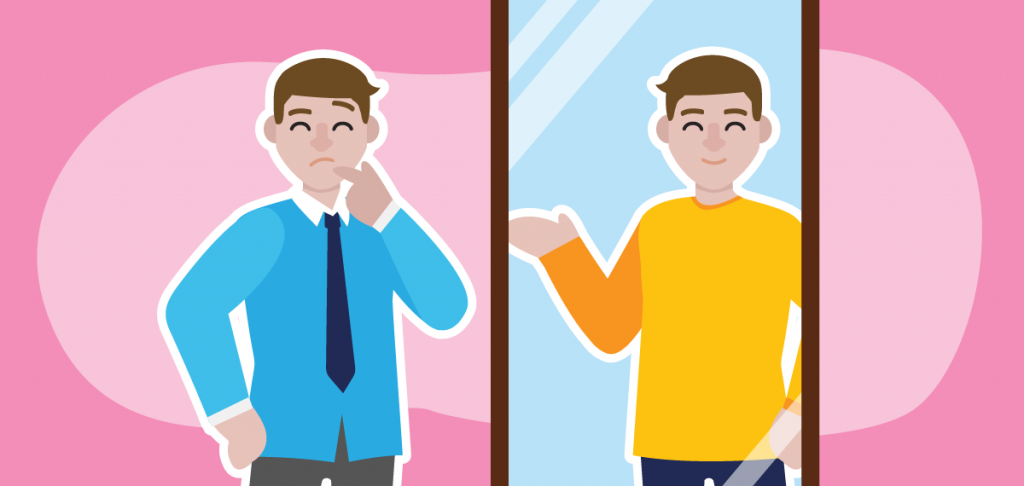 Explain your customer's main challenge
Use your past experience and customer interviews for this next step. Try to explain your prospect's main problems. Seek to see them from their point of view. Look at each problem from all angles — what does it look like at first glance? What is the customer struggling with internally or philosophically?
Discover the common issues.
For example, a residential real estate agent, helps their prospects navigate home sales and purchases. Yet the struggle that brings a new client to their door may run deeper. They may worry about getting the housing market timing right. They may have concerns about getting pushed into an offer before they're ready. They could have an unclear picture of what they are looking for.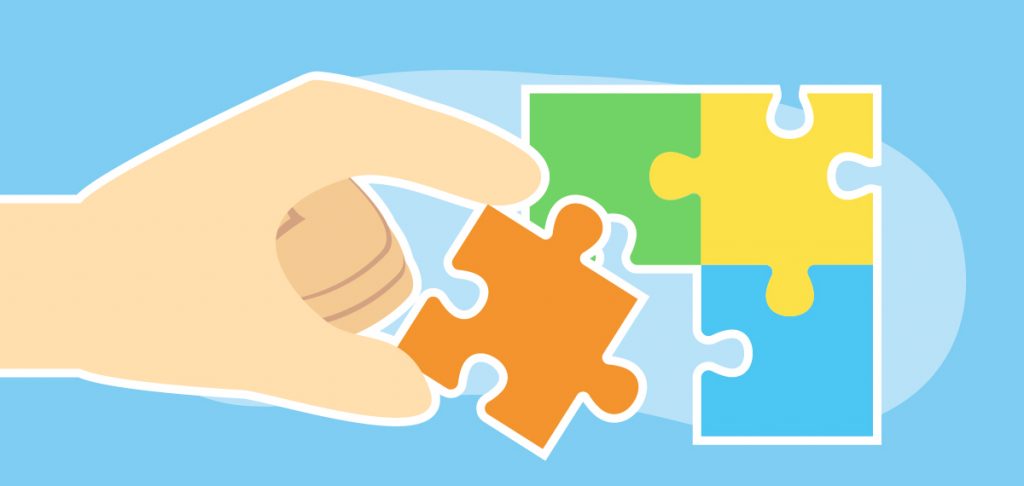 Identify the one problem your company solves best
Your company may offer multiple solutions. Which do you solve best? Make this the core of your messaging.
Focus on the one problem and solution, keep your language clear and concise, and your messaging will cut through the noise.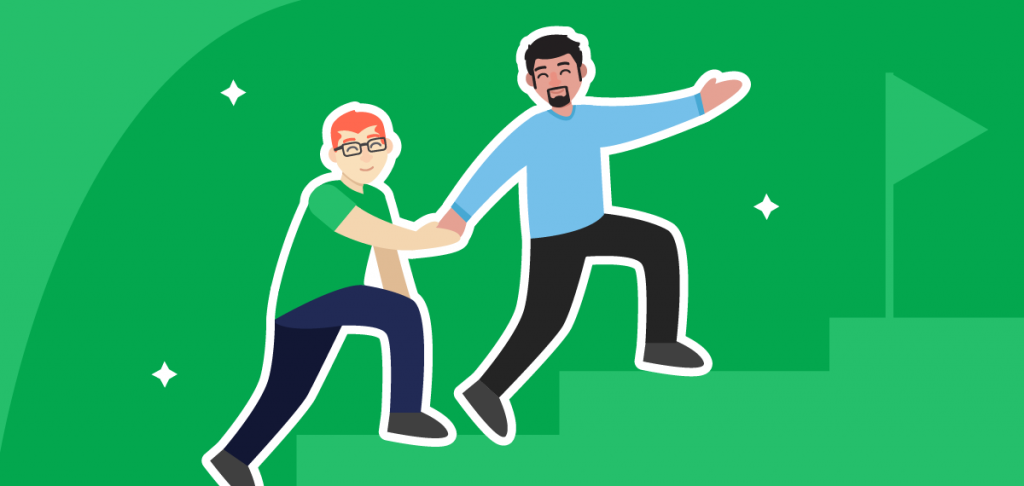 Connect with empathy, build trust with authority
You've listened to your customers. You understand their problems. Now, offer a solution with empathy and authority.
Write with empathy — show your readers you understand and care about what they're struggling with. Write the words they're already thinking and your message will resonate.
Here's how that might look for our residential real estate agent:
"We know the home-buying process can be stressful."
"You deserve to control the process."
"We believe you should have the freedom to find your dream home at your pace."

Show authority by sharing your past successes and experience in the industry. These accomplishments establish you as a trusted professional in the eyes of your prospect.
Following from our example above:
"Putting home buyers at ease for the last three decades."
"Top-rated in the industry for customer service."
Build authority across your website. Show empathy. And you will win the hearts and minds of your prospects.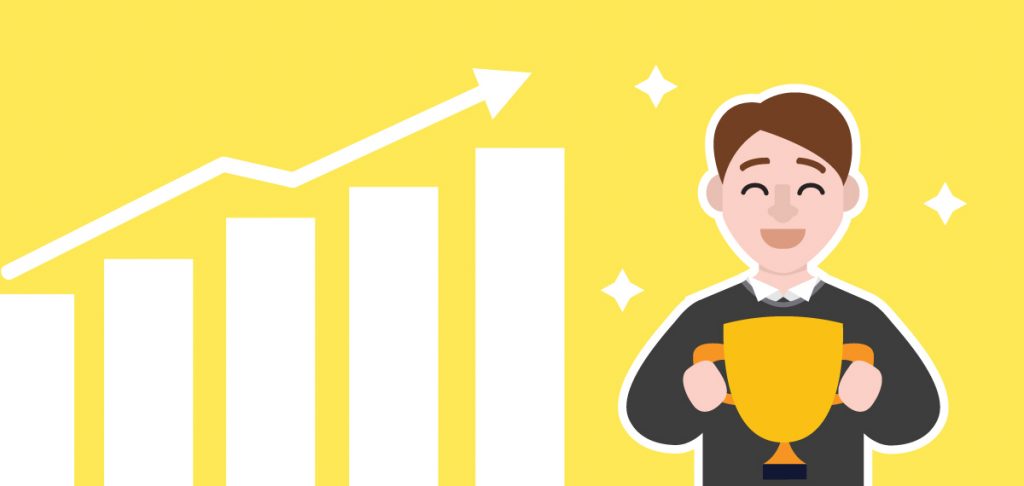 Show your reader a clear path to success
Now that you have your reader's trust, you can offer a clear pathway to a solution.
Depending on your product or service, there may be dozens of steps to take from the start to the end of the sales conversation. Even so, make your prospect-facing plan simple and clear, with no more than 3-4 steps. The newcomer to your brand should be able to see exactly how to get started, what happens next, and how they will find success.
Here's a simple messaging strategy for our real estate agent:
We listen. Tell us what you are looking for.
You get an action plan showing how our team will find your dream home.
Just follow along with the paperwork and manage all documents.
Kick back, relax, and enjoy life in your new home.
Show your target audience what to expect. Then, allow them to picture themselves having reached their goals.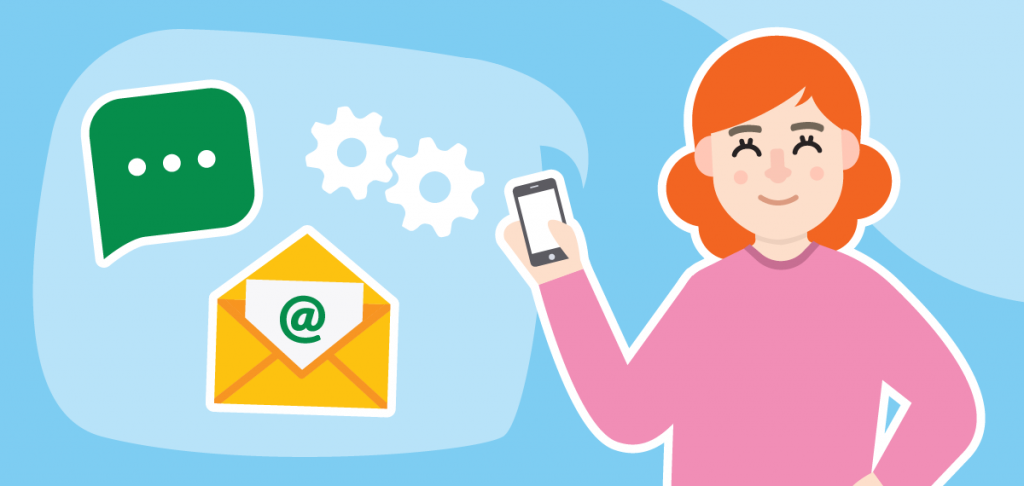 Use your messaging across your marketing channels
Integrate your core messaging statement across your digital channels. Place it front and center on the homepage of your website. Add it to your chat widget. And mix it into your social media posts and email newsletters.
When your message stands out in your industry, you position yourself to attract qualified leads.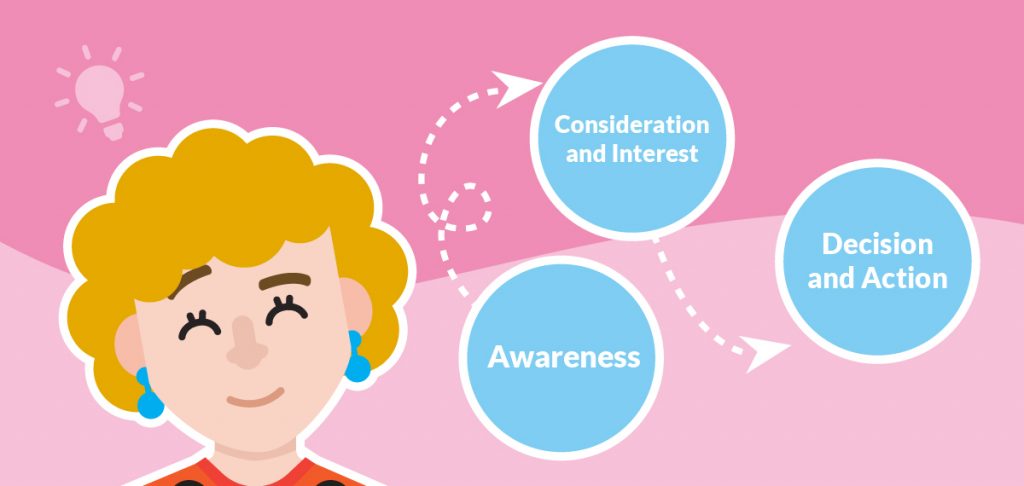 2 – Create a content marketing strategy for every stage of the buying journey
Content creation can be difficult and time-consuming, but it's still one of the best ways to generate digital leads for almost every industry. Embrace a strategic approach to content creation, and your time and money will be well spent.
The first step in crafting a content marketing strategy is to fully understand your prospect's buying journey.
The Buyer's Journey
The stages of the buyer's journey are similar for Business to Business (B2B) and Business to Consumer (B2C) lead generation.
First Stage: Awareness
In the awareness stage, your buyer is experiencing the symptoms of a problem or pain related to a problem. They're gathering information and educating themselves on the available options. They typically use search engines or social media as a first step.
Second Stage: Consideration and Interest
Your potential buyer has now clearly defined the problem and is committed to finding a solution, though they haven't yet chosen one.
Third Stage: Decision and Action
In the final stage of the buying journey, the potential buyer has now defined the problem and decided how to solve it. Now, the buyer is comparing vendors to see which company has the best product or service.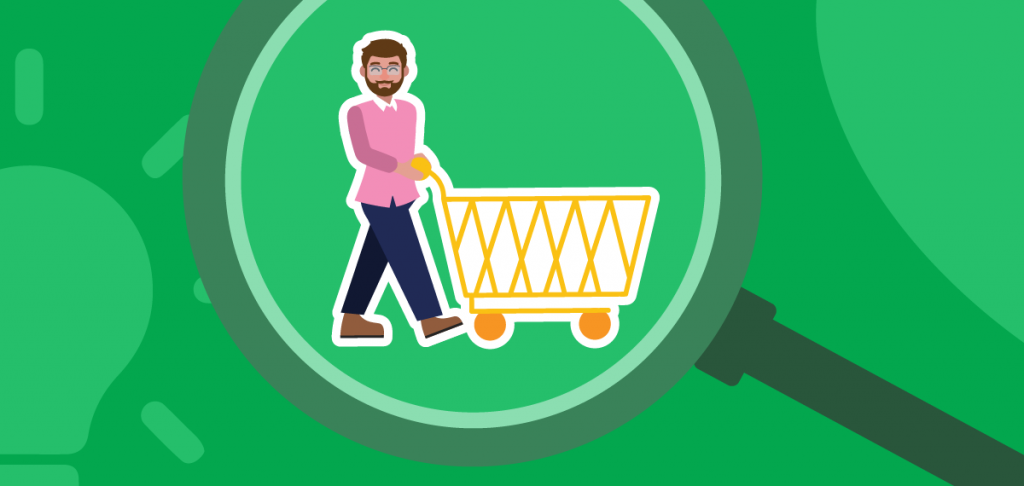 Strategic content marketing for each stage of the buying journey
To generate leads at each stage of the journey, your content marketing should address each step of the process.
Here are questions to get you in sync with the mind of your target audience at each stage.
Awareness Stage: 
What symptoms or pain points are they experiencing?
What topics would they be most interested in at this stage that could also be related to your business?
Consideration and Interest Stage:
What problems have they defined?
What solutions are they researching?
How can your content engage them at this stage and position your business as the best solution?
Decision and Action:
Who are your competitors in your space? Who might the buyers be comparing you to?
How are you different from your competitors in the way you will solve the buyers' problem?
Write out your answers and consider building out a visual chart to show the journey. Use this chart as a starting point for your content development.
Consistently publish high-quality content to educate those in the awareness and consideration state about the solutions you offer. Build trust and brand credibility by anticipating questions, showing empathy, and providing authoritative answers. Provide motivation for undecided buyers at the decision stage to cross the finish line.
Making live chat available throughout your content helps you engage website visitors on your website. Gather visitor questions or even ask for their feedback. Ask them what else could help them solve their problem.
Respond quickly to these chats, and you might even start a sales conversation right from your webpage (not to mention, gather some invaluable data for future content strategy).
Looking to generate more leads and sales by never missing another chat again? Check out our chat agent service here and get a 7-day free trial today!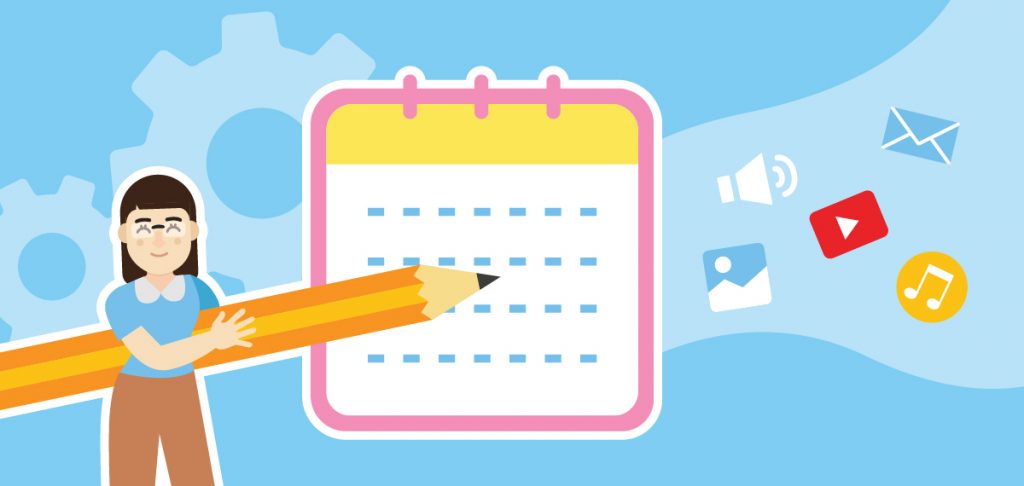 3 – Build a content creation calendar to ensure consistent execution
You now have the core strategic insights you need to generate more qualified leads.
You have the messaging that speaks directly to your potential buyer.
You've listed topics and entry points for your prospect at all three stages of the buyers' journey.
You've answered key questions for each stage, and you can feel confident you're addressing their needs.
How do you go from strategy to execution?
Build out a content creation calendar.
Follow your topics and ideas from the content strategy outlined above. Include a plan for all of your published content here. This includes blog articles on your website, Knowledge Base articles, email newsletter themes, social posts, webinars to host, and videos.
Assign a publish date for each piece of content.
Publish dates keep you accountable to yourself and your goals. Be sure to publish consistently using your new messaging. You will gain visitors, social followers, and customers over time.
Three tips for easy social content creation
1 – You don't always need to create brand-new content from scratch.
Consider sharing sections from one longer-form blog post as individual posts. Spread your posts out over weeks or months.
If you have a "Top 7" or "Best 10" list, break it down into 7 or 10 different pieces of content. Then, point people back to your original article with each post.

2 – What to put in an email newsletter?
Try sharing short, engaging snippets of your recent content pieces. Include a link to the full article or post in your newsletter. Don't worry if it has already been published on your social channels or website.

3 – Not sure how much content to create?
Get started with the following cadence:
2 blog articles a month
1 video a month (can be part of your blog article)
1-2 social posts per platform each week
1 email newsletter
Social Platform Tips
Visibility on all platforms is ideal. However, if you're just starting out, save time and start testing your content right away by publishing the same content on each platform. As your social content marketing plan grows, match the format of your posts to each social channel.
For example, Instagram image and video posts are meant to be beautiful, visual representations of your brand. Go for aesthetics with your Instagram posts.
On the other hand, Instagram and Facebook stories are expiring, short snippets. Use them for expiring offers, such as discounts that have an end date.
LinkedIn is the place for thought leadership. Individual accounts see better post engagement than company accounts on this platform. Consider using company accounts to share published content. Then, use employee accounts for thought-provoking commentary.
TikTok is all about informality and off-the-cuff reflections and thoughts. Forego the polished content here. You can still be effective in driving more leads to your service or product offering.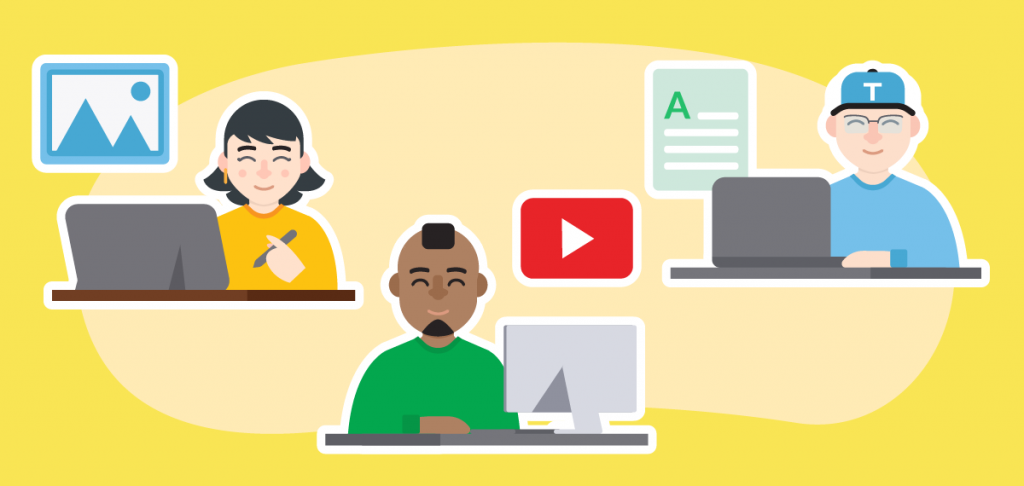 Show your reader a clear path to success
Quality content can differentiate you from your competitors and generates more leads. Yet it's hard work to build and publish high-quality articles, videos, and posts on a consistent basis.
Consider delegating either the strategic or execution-related tasks to other team members.
Don't have team members to delegate? Team members at max capacity? You might consider outsourcing some or all of these tasks to a virtual assistant.
Virtual assistants can help with all avenues of content and social media marketing, including graphic design, video creation, managing social comments, and more.
Whatever you decide, we encourage you to follow the three steps above and start generating those new prospective customers!
Looking to free up your time, simplify your work day, and outsource your content creation to a virtual assistant? Click here to learn more about tawk.to's Virtual Assistant service.