Rebrand the the tawk.to Widget & Outgoing Emails, and make them your own
Have you ever wanted to truly make the widget your own by removing the "Powered by tawk.to" link on the bottom of our widgets and support ticket emails? Well now you can, and that's not all.. You can replace it with your own custom link, in any color you like.

After a lengthy beta period, and a successful soft-launch earlier in the week, we're excited to announce that the #1 most frequently requested feature, is now available for all users.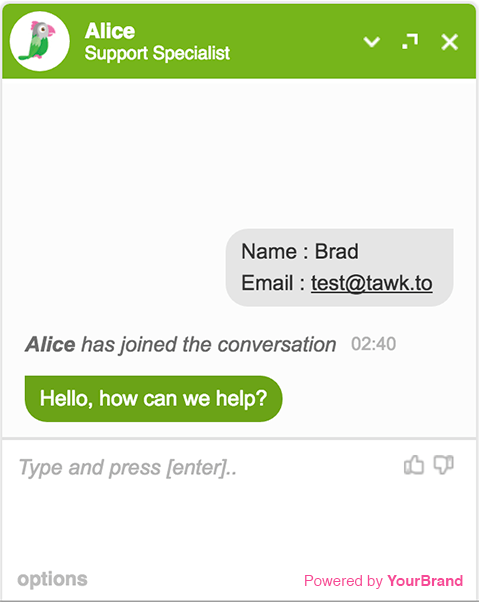 Here are the details
The Remove Branding add-on allows you to remove the tawk.to branding from the tawk.to Widget and Support Emails as well as use your own domain for sending out support emails.
Main Features:
. Remove or Customize branding on the widget
. Remove or Customize branding in ticketing emails and chat transcripts
. Setup a custom support email address
. Use your own domain to comunicate with your Visitors via email.
How to Activate the new Add-on:
1. Login to the
dashboard
2. Go to
Admin
at the top of the dashboard.
3. Choose the property you wish to remove the tawk.to branding from.
4. You will see a new link under property settings for
Add-Ons
. Click Add-Ons.
5. Select the
Remove Branding
 add-on.
6. On the right select a package.
    - $12.00/month (paid annually)
    - $15.00/month (paid monthly)
7. Enter your payment details.
8. Click the green Activate Now button.
9. Next go to settings at the top right and change the branding to your own brand!
To change branding settings or to set up SPF/DKIM, just go to the settings for the Remove Branding add-on and follow the wizard.
Don't worry the tawk.to app is still 100% free
For those of you that are happy to keep the "powered by tawk.to" link and branding on your widget and support ticket emails, then the apps are all still 100% free with unlimited agents, sites, properties etc. The only item we're charging for is to remove the tawk.to branding and we have tried to keep the pricing as reasonable as we possibly can.