---
Integrate Google Conversion tracking with tawk.to
Google Conversion tracking can help you see how effectively your ad clicks lead to valuable customer interaction with tawk.to.
This article explains how to create a conversion action to track visitor engagement with the tawk.to widget. You'll set up the conversion action in your AdWords account and get a piece of code called a "tag." To finish setting up conversion tracking, you will take components of the tag to integrate with the tawk.to Javascript API and then add the conversion tag to your website.
Before you begin
Here's what you'll need before you can set up website conversion tracking:
- A Google Adwords account
- A website: This is where you'll put the conversion tracking code, called a "tag."
- Ability to edit website: Either you or your webmaster will need to be able to add the tag to your website.
- A free tawk.to account
Step 1 - Get the conversion tracking code from Google Adwords
Please follow
the instructions here
to get your Google Conversion Tracking Code.
Step 2 - Copy fields from Adwords code
Copy the ######## fields from your Google Conversion Tracking code
Step 3 - place fields in to Javascript API Code
Paste ######## fields in to the tawk.to Javascript API code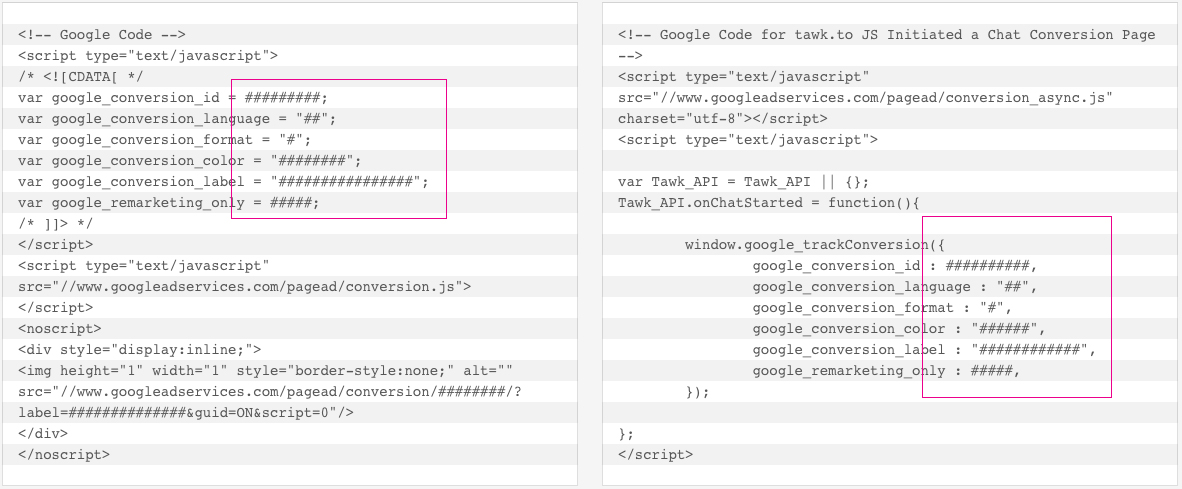 Step 4 - Place the code after your tawk.to widget embed code.
Copy the newly created code to the footer of your website, just below the existing tawk.to chat embed code.
<!-- Google Code for tawk.to Chat Conversion -->
<script type="text/javascript" src="//www.googleadservices.com/pagead/conversion_async.js" charset="utf-8"></script>
<script type="text/javascript">

var Tawk_API = Tawk_API || {};
Tawk_API.onChatStarted = function(){   
       
	window.google_trackConversion({
		google_conversion_id : ##########,
		google_conversion_language : "##",
		google_conversion_format : "#",
		google_conversion_color : "######",
		google_conversion_label : "############",
		google_remarketing_only : #####,
	});

};
</script>